See Don't Blink Burlesque Perform Live!
Information and tickets available below at the following upcoming shows:
September 8th

, 2018 at 9:00PM — Tucson, AZ. Downtown and iconic 4th Avenue come alive every "Second Saturday" in Tucson, AZ. Join us for our Second Saturday Burlesque Show at The Hut on 4th Avenue in Tucson, AZ. Doors are at 8:00pm, show starts at 9:00pm.
There is a $10 cover (some bar stools available but mostly standing room only) and $20 for VIP (includes voucher for one drink at the bar and front section, guaranteed seats). Tipping dancers is always very appreciated!
VIP tickets usually sell out in advance, so use the ticket link to get them early; both general admission and VIP tickets can be purchased securely via the link on the side! You can also buy General Admission tickets at the door. Ages 21+.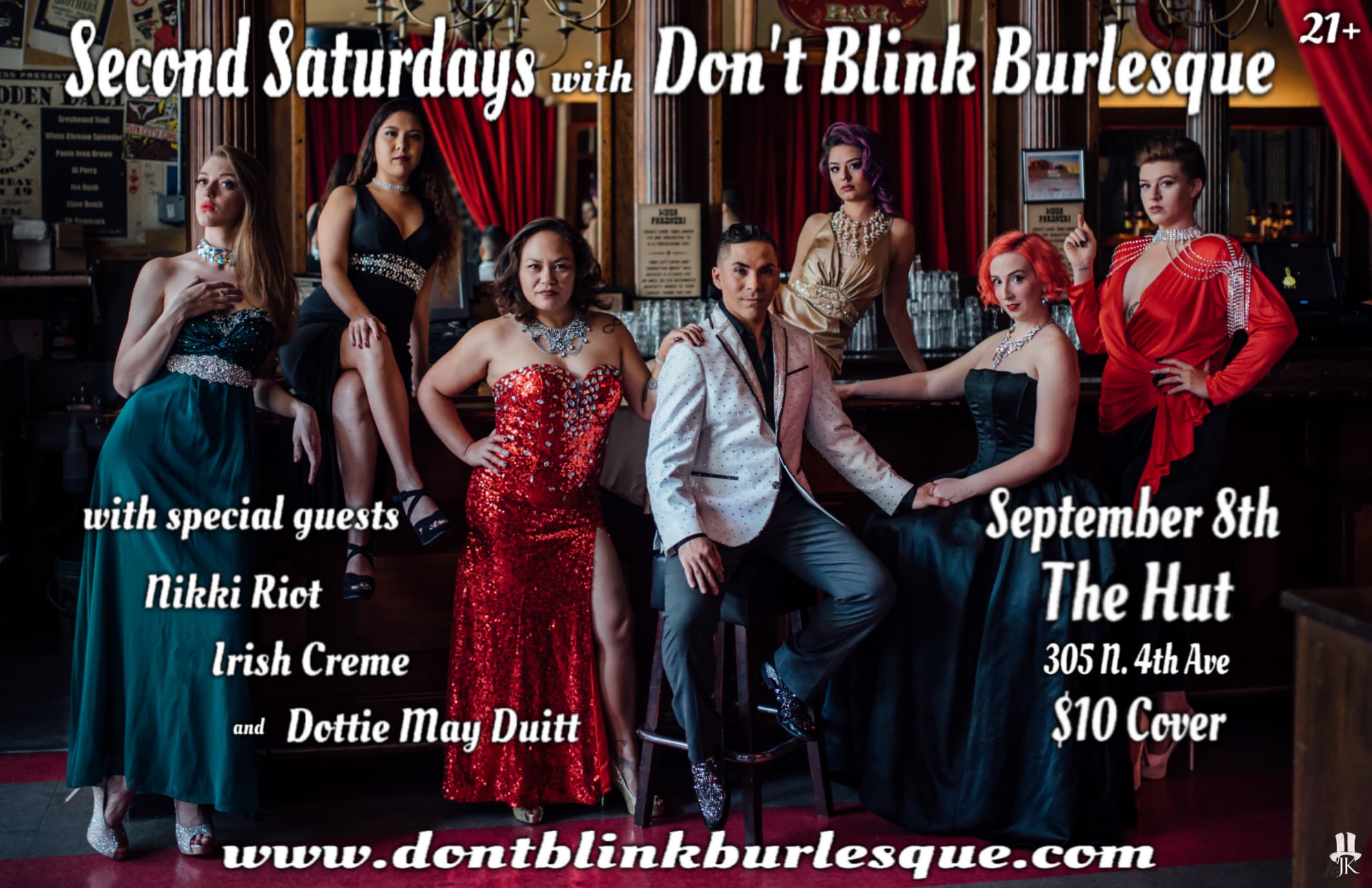 Don't Blink Burlesque at Turnabout for TIHAN
Don't Blink Burlesque is back at Turnabout for TIHAN!
Join us on Sunday, September 2, the traditional date of the show—the Sunday of Labor Day Weekend! It will take place at the DoubleTree by Hilton Hotel at Reid Park (445 South Alvernon Way, Tucson, Arizona). The doors open at 6:00pm, and the show starts at 7:00pm.
Last year, we had over 400 people for this show, and tables sold out, so act now! To purchase a sponsorship, a table of 10, or individual seats, visit https://tihan.ejoinme.org/turnabout
Sponsors get premium seating. Sponsorships start at $300 (including a table of 10) are now available. Then on August 1, we'll make seating assignments to those purchasing a table of 10 for $200. And on August 8, individual seats will be available for $20.
#Turnabout for TIHAN 2018 has a great show in store for you! You'll get to experience performances by our fabulous emcees: Janee' Starr and Tempest DuJour, along with performances by Miss Gay Arizona America Adriana Galliano, Miss Gay Tucson America China Collins, Diva, HOK, IBT's Bar+Food, Bears of the Old Pueblo, Don't Blink Burlesque, HighWire Lounge, and more. We'll also be presenting our 2018 Stonewall Award for longterm contributions to the LGBTQ+ and HIV communities to Natalie Perry.
Featuring music, comedy, drag, dance, burlesque and more, Turnabout is one of the biggest shows of the year, and one of the biggest events in Tucson's LGBT and HIV communities, raising $18,500 last year for TIHAN's programs and services. Over the past 21 years, Turnabout for TIHAN has raised more than $265,000 for AIDS awareness and support services for people living with HIV.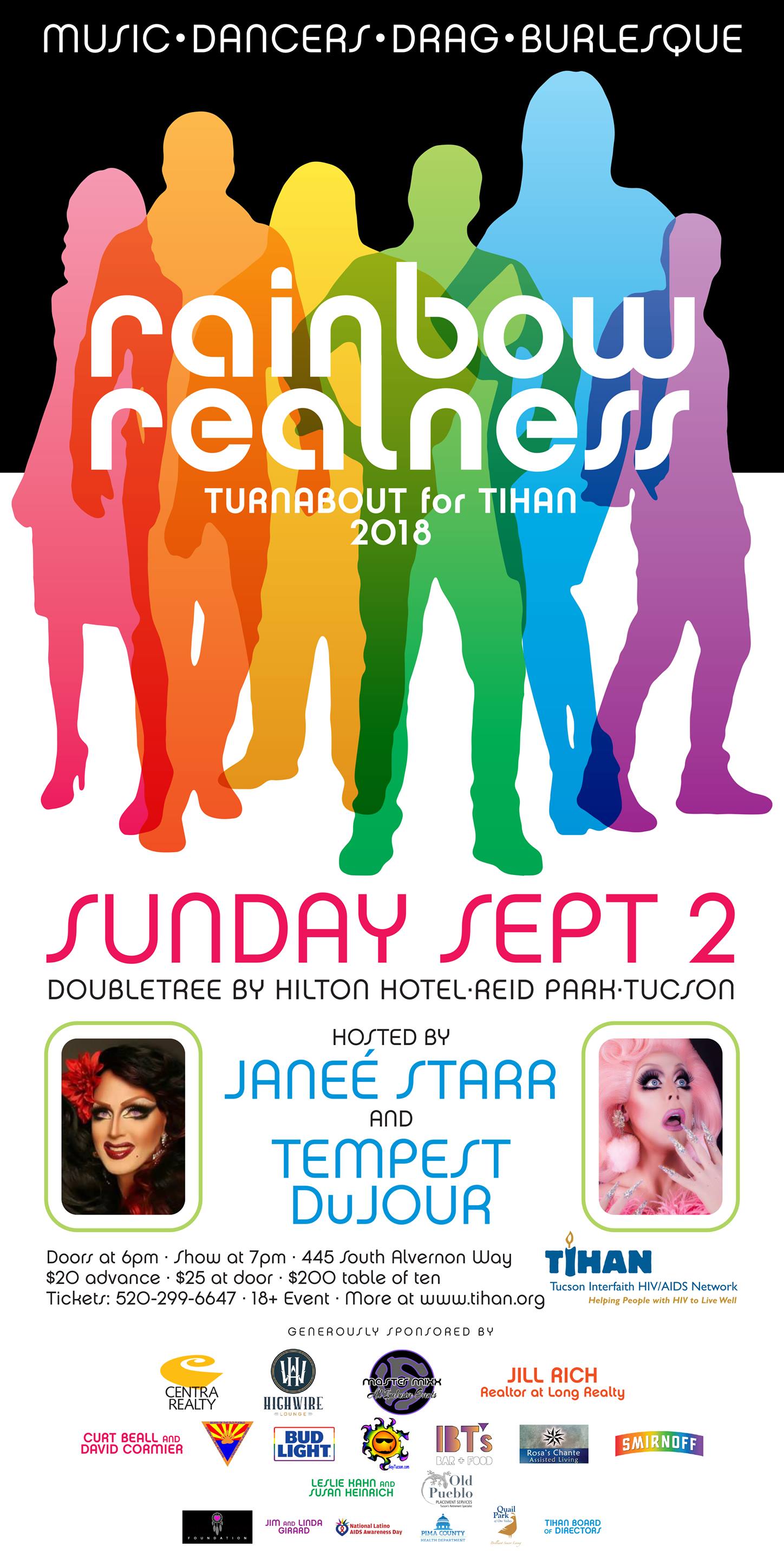 For more information, contact Tucson Interfaith HIV/AIDS Network (TIHAN) at 520-299-6647 or scott@tihan.org