See Don't Blink Burlesque Perform Live!
Information and tickets available below at the following upcoming shows:

July 13th, 2019 at 9:00PM — Tucson, AZ. Downtown and iconic 4th Avenue come alive every "Second Saturday" in Tucson, AZ. Join us for Second Saturdays with Don't Blink Burlesque at The Hut on 4th Avenue in Tucson, AZ. Doors are at 8:00pm, show starts at 9:00pm.
There is a $10 cover (some bar stools available but mostly standing room only), $15 Reserved Seating, and $20 for VIP (includes voucher for one drink at the bar and front section, guaranteed seats).
VIP tickets usually sell out in advance, so use the ticket link to get them early; both general admission and VIP tickets can be purchased securely via the link on the side! You can also buy General Admission tickets at the door. Ages 21+.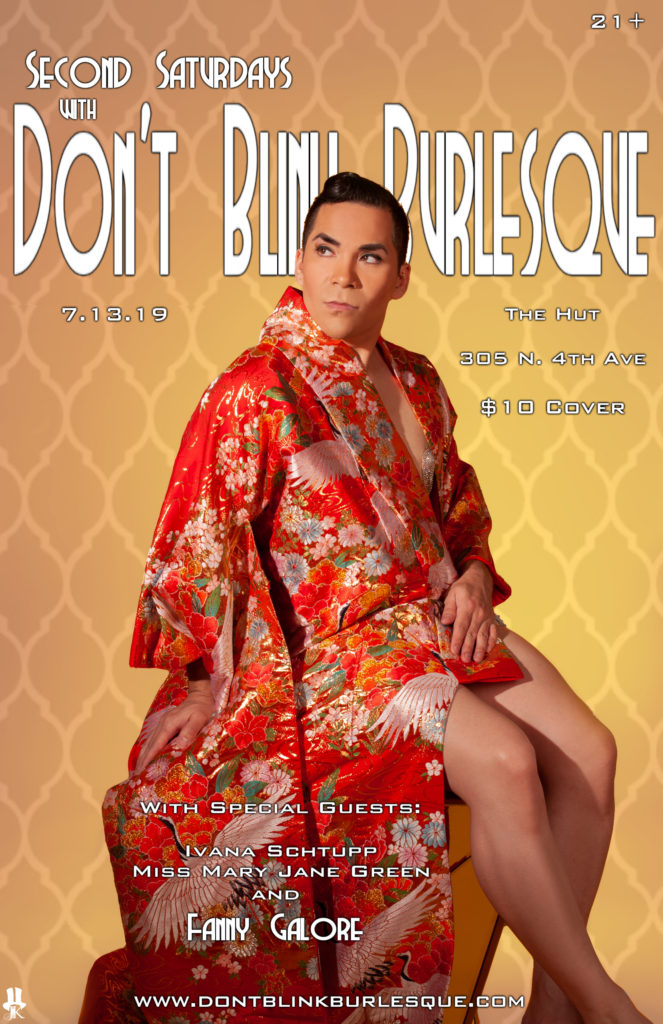 July 13th, 2019 at 2:00PM — Don't miss this opportunity to explore that mysterious conundrum that is 'branding' with Don't Blink Burlesque's special guest Miss Mary Jane Green!
'Branding in Burlesque' We've all heard of Branding but how can it work for a performer? Learn about personal social media branding from a marketing ambassador who has worked for large corporations such as Proctor & Gamble, Reynolds Corporation & Deep Eddy Vodka. Personal branding is the practice of people marketing themselves and their careers as brands. See how this personal-branding concept can land you more bookings and bring brand awareness from self-packaging. Learn how to create and more importantly, how to maintain and inhabit your brand.
Length: 1 hour
Materials: Paper & Pen
Limited spots available, get your tickets at: https://MMJG0713.bpt.me